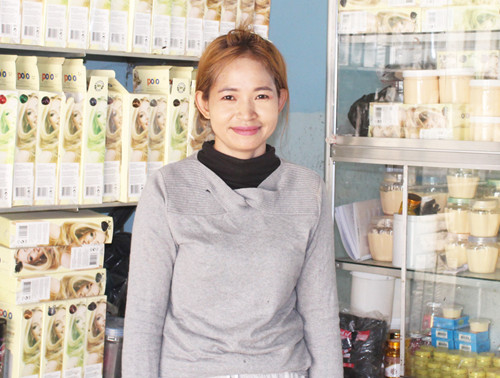 Ms. Eum Sreylors, with a smile of full hope is 33-year-old mother of two- one daughters and one son – Lives in Pleung Chhes Rotes village, Sangkat Pleung Chhes Rotes, Khan Posenchey, Phnom Penh. She runs a business of cosmetic makeup at her house. She has had the business for almost ten years and has a lot of experience regarding her business. Her husband, Mr.Mom Ran, 36 years old, he is a taxi driver and also delivers the clean water to sell for the villagers. He has experience with his job for about 3 years.
Ms. Sreylors was introduced to MAXIMA for the first time in 2013 by her neighbor. She decided to request the loan for the first amount of $5,000 to build her store to be used as her business and buy material and cosmetic products. After getting their first loan, the couple had a new business with the ability to repay monthly interest easily. Seeing the improvement in their lives, they later asked for more loans. Now they take a renewed loan with the amount of $5,000 to buy a van to deliver the clean water to sell in the village.

She has a long relationship with MAXIMA as she has been our client for 8 cycles. With the loan provided Ms. Eum Sreyors is keen to expand her business further. With the income she earns, she could provide a better standard of living for her family and good education for her children. In the future, she wishes to improve her business and support her children's study.

Ms. Eum Sreylors: "Before giving me a loan, MAXIMA's staff always clearly explains the loan conditions and repayment methods to me. "I am very grateful to MAXIMA for giving us loans. The loans changed our lives completely for the better. She said.