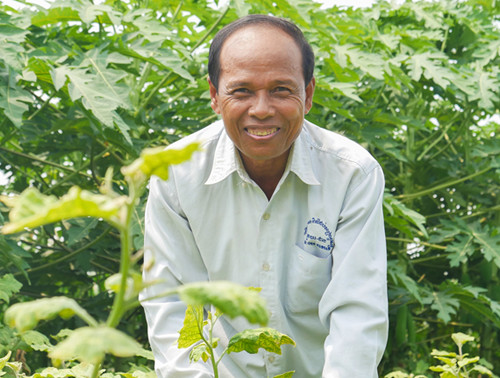 Mr. Lim Sophorn, a 70-year-old father of three sons, lives in Koh Prak village, Phum Thom commune, Kien Svay district, Kandal province where he has lived since his marriage in 1986. He is a construction worker and farmer growing corns, papayas, and eggplants in his village for the past 23 years.
Reflecting on the loan application process, Mr. Sophorn, said: "Before giving me a loan, MAXIMA's staff always clearly explains the loan conditions and repayment methods to me and often give me a good recommendation on how to use the loan with right purpose and payback capacity to avoid over-indebtedness."
These days, Mr. Sophorn and his family enjoy a decent living standard. He has been able to renovate his house and increase the yield of his crop with MAXIMA loan, and he has never missed a loan repayment.