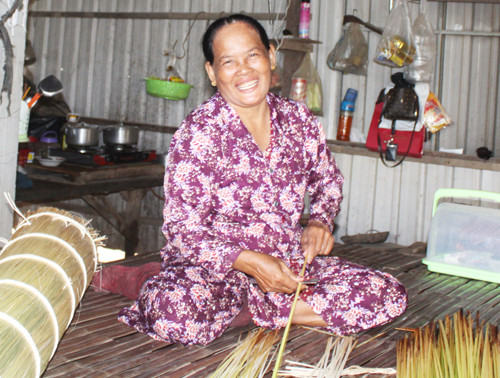 Ms. Kou Lai is 57-year-old mother of six – two daughters and four sons – Lives in Peam Ta Ek village, Peam Okha Ung commune, Lvea Em district, Kandal province. She runs a business of mats weaving at her house. She has had the business for almost ten years and has a lot of experience regarding her business. Her husband Mr. Sang Sun is a chef and a farmer in the village. He has experience in his job for 16 years.

Mrs. Kou Lai first heard about MAXIMA in 2016 from our credit officer who introduced the products and services of MAXIMA to her in village. She took the loan from MAXIMA to refill the land for building her house and now she has a suitable resident for her family. She said that she trusts MAXIMA because of our fast financial services that have always responded to her needs over time. In addition to mats weaving, she and her husband spend their time at the field planting corn and also grows rice to support their living.

Before using MAXIMA's financial services, she earned her main income from farming, making a few amounts per day. Now her family has seen an increase in household income as they have more clients to buy her products and improve their lives as they become micro business owners. Ms. Kou Lai is keen to expand her business further. With the income she earns, she could provide a better standard of living for her family.