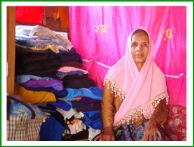 Hoe took out her first loan with MAXIMA in December 2007. She had never been able to access financial services of any kind before and was very scared to borrow money from a financial institution. For years Hoe had purchased used clothes from her neighbors and resold them from her home, a very small business which brought in limited income for her family. She managed to bring in only 10,000 Cambodian Riel (approximately $2.50 USD) each day. Her children were never able to go to school, as the family could not afford school fees or the opportunity costs associated with their children not working to support the family.
Hoe decided she wanted to supplement her modest income with an additional business. She applied for a loan with MAXIMA to purchase a fishing net and boat so she and her children could catch fish to sell to their neighbors. Several months later, Hoe's fishing business was bringing in 20,000-30,000 Riel (around $5.00-7.50 USD) each day. When coupled with the clothing business Hoe continued to run, this substantially increased Hoe's income and subsequently improved the family's standard of living.
Unfortunately, none of Hoe's children were able to complete their educations and do not expect to return to school in the future. However, because of her hard work and entrepreneurialism, Hoe believes that she will be able to successfully establish her fishing work so her children can continue this line of work in the future and enjoy the security of running such a successful business. Her loan from MAXIMA thus not only positively impacted her life, but has provided a profitable and sustainable opportunity for her children's as well.